The R300X4 comes with a cast aluminium heatsink that includes top mount controls. The heatsink helps the amplifier immensely, as we have seen in our experience. And we understand that any good amplifier must have this feature if they want to deliver clear-sounding audio for long-term.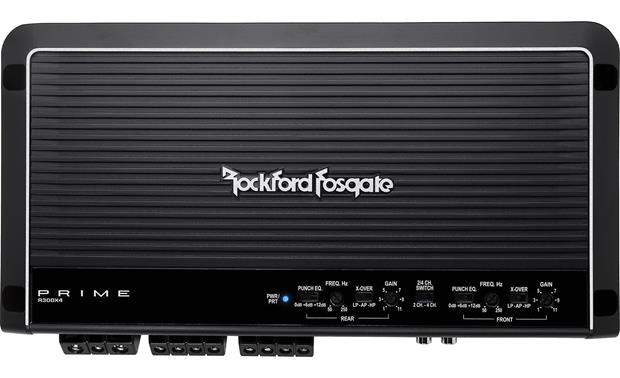 R300X4 is a 4-channel amplifier that provides superior and clearer sound output. Rockford, further, is a highly trustworthy brand that is easily one of the best car audio brands out there, making the R300X4 one of the best car amplifiers out there on the market right now (and since quite a long time too).
Pros and Cons
The Rockford R300X4 accepts high level (4-pin) and RCA level input. The 12dB/octave crossover (Butterworth) delivers exceptionally. The 2/4 channel input switch makes it very easy to switch between multiple configurations of input.
Another thing we loved about this amplifier was that there are separate gain controls for front and rear sound units. Real-time power supply thermal sensing also helps you out during certain times. The power supply is MOSFET, which ensures there are no power or electric problems with the amplifier or the connections. For added security measures, the Rockford R300X4 comes with overcurrent as well as short circuit protection.
Rockford Amplifier Review – Conclusion
In a nutshell, the R300X4 has exceptional features for this price range. It's hard to find a suitable competitor to this car amplifier in lower price ranges. If your budget is around this range, this is the product you should be going for without any doubt when the priority is clear sound.